Sarawak is the largest of Malaysia's 13 states. It is home to Batang Rajang, the country's longest river, and Mulu, the world's most extensive cave system. Holding the world's oldest and second largest tropical rainforest after the Amazon, Sarawak is a marvel of biodiversity.
Sarawak is presently divided into 11 administrative divisions; Kuching, Kota Samarahan, Sri Aman, Betong, Sarikei, Sibu, Kapit, Bintulu, Mukah, Miri and Limbang. Kuching is the State capital and seat of the government.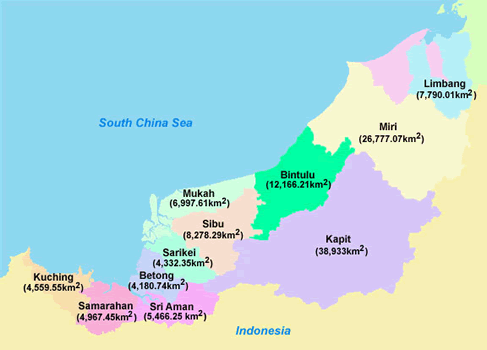 Sarawak has a Chief Minister, who heads a Cabinet of Ministers. The Chief Minister is appointed by the Yang di-Pertua Negeri (or Governor), from amongst members of the State's Legislative Council. State general elections are held every five years. The present
Chief Minister
is Pehin Sri Datuk Patinggi Tan Sri (Dr) Haji Abdul Taib Mahmud. Sarawak also has a Head of State, the Yang di-Pertua Negeri (Governor) Tun Abang Muhammad Salahuddin Abang Barieng. During Sarawak's 25th Anniversary of Independence in 1988, the State adopted a
new flag
,
State Crest
, State Motto and
State Anthem
.
---

Copyright ©2010 Sarawak Government
---
Disclaimer: The Government of Sarawak shall not be liable for any loss or damage caused by the usage of any information obtained from this portal. Services provided through this portal are subject to the terms and conditions of the respective service providers.
---
Best viewed with Netscape and Mozila Firefox; Screen resolution 1024 by 768 pixels