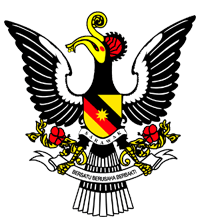 Sarawak's Crest is represented by a symbolic figure of a wing-spread Kenyalang (Rhinoceros Hornbill) with a shield bearing the state flag on its chest. The Hornbill's tail and wings are comprised of thirteen feathers or strips that represent the thirteen states in Malaysia. The "Bunga Raya" (Hibiscus) – Malaysia's national flower - appears on the right and left sides of the bird's legs. The Hornbill is perched on a ribbon bearing the words "Bersatu, Berusaha, Berbakti" (United, Industrious Dedicated). The State Crest became was officially launched on the same day as the current State Flag.
---

Copyright ©2010 Sarawak Government
---
Disclaimer: The Government of Sarawak shall not be liable for any loss or damage caused by the usage of any information obtained from this portal. Services provided through this portal are subject to the terms and conditions of the respective service providers.
---
Best viewed with Netscape and Mozila Firefox; Screen resolution 1024 by 768 pixels