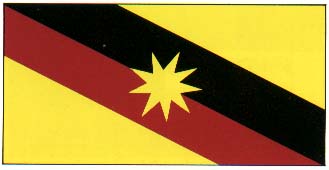 Sarawak has had several flags since James Brooke adopted the flag of St George—a red cross on white background in the form of swallow-tailed pennant--in September 1841. It was not until 1845 that Brooke decided to give Sarawak its own flag—made up from half purple and half red cross of his armorial bearings on a yellow background, yellow being the royal color in Borneo.
When Sarawak became a Crown colony in 1946, the flag was changed thrice. The British also flew the Union Jack. The State continued to use the old Sarawak flag, which had a cross and crown in the centre, until it was changed in 1973 by the Chief Minister, Tun Haji Abdul Rahman Yakub.
With Chief Minister Pehin Sri Haji Abdul Taib Mahmud at the helm, Sarawak had a new flag which was hoisted at the Kuching State Stadium on 31 August 1988 in celebration of Sarawak's 25th Anniversary of Independence.
Red symbolizes the courage, determination and sacrifices of the people in their pursuit create a model State. Yellow signifies the supremacy of law and order, unity and stability in diversity. Black represents Sarawak's endowment of rich natural resources such as petroleum and timber. The yellow, nine-pointed star represents the nine administrative Divisions which were established at that time. The star also embodies the aspirations of the people of Sarawak in their quest to improve their quality of life.
---

Copyright ©2010 Sarawak Government
---
Disclaimer: The Government of Sarawak shall not be liable for any loss or damage caused by the usage of any information obtained from this portal. Services provided through this portal are subject to the terms and conditions of the respective service providers.
---
Best viewed with Netscape and Mozila Firefox; Screen resolution 1024 by 768 pixels